Last Updated on July 23, 2022 by Andrew Shih
Are you looking for a meaningful side hustle more than just making a few pennies from watching videos and filling out surveys?
If you are looking for a legit and flexible side hustle to make extra money online from home while helping other companies improve their service, becoming a website tester may be an ideal side hustle for you.
There are several website testing platforms, and uTest is a leader in this space. This uTest review will help you understand this platform's ins and outs and what you should be doing to make the most money as a website tester.
What is uTest?
uTest is a website that pays you to test a website for global brands, such as Google, Facebook, McDonald, Nike, Airbnb, Starbucks, etc. It finds out what you, a website tester, are interested in and matches you to brands that need your help. Website testing can be a short 5-minute review of a single page or an hour-long in-depth look at a website.
How does uTest work?
After you have created an account, you are good to go.
You have nothing else to do but wait until you are matched to complete one of the website testing tasks. The tasks are all unique and not the same old task repeated over and over again.
You could be testing bugs on a fast-food restaurant by using a global search engine interface. Next, you could be testing the online public transit payment system or bank verification system. Each task is different, and your profile is key to getting the work you want.
A typical task is finding bugs either on their website or app.
It is all pretty simple: you apply for a project, then you are given a set of instructions you need to go through each section and report any issues carefully. All the tasks are all done on the website via an online questionnaire.
To get started on uTest, you just need your mobile phone or a laptop device. 
However, many projects have specific requirements, including location, language skill, specific device, age group, etc.  To make sure you are matched to the appropriate projects, it is in your best interest to thoroughly and accurately complete your profile questions.
Setting up uTest profile
Setting up a profile with uTest is pretty straightforward, but I will go over every part to help you get it right.
The first step is going to the uTest website. Go to the top right corner and click Join Today.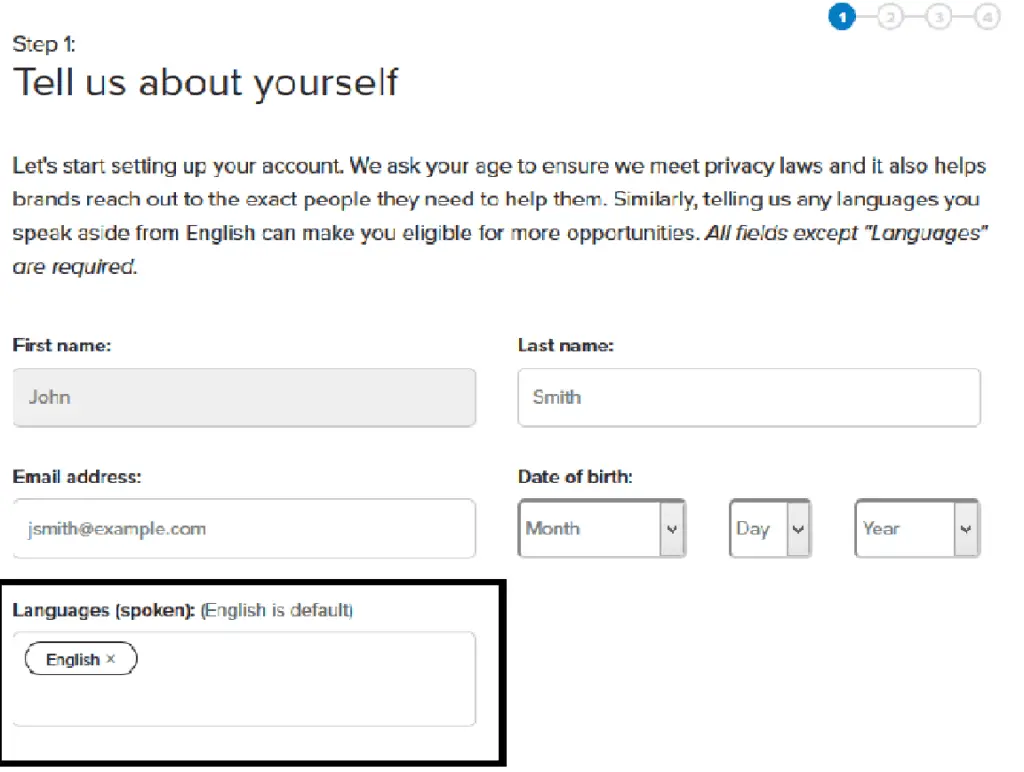 Next, you are going to be sent to the "Tell us about yourself" page.
It is important to fill in the personal information correctly. When it asks you for languages – make sure you are 100% comfortable using that language to such a level that the uTest review board understands you completely.
I have had friends claim to be confident with multiple languages but not fluent enough for uTest to approve their website reviews. 
Step 2 will be semi-completed for you. Just check the information to make sure that it is correct. uTest needs your location for businesses to match the proper website testers. Some tests are only open to specific geographic areas.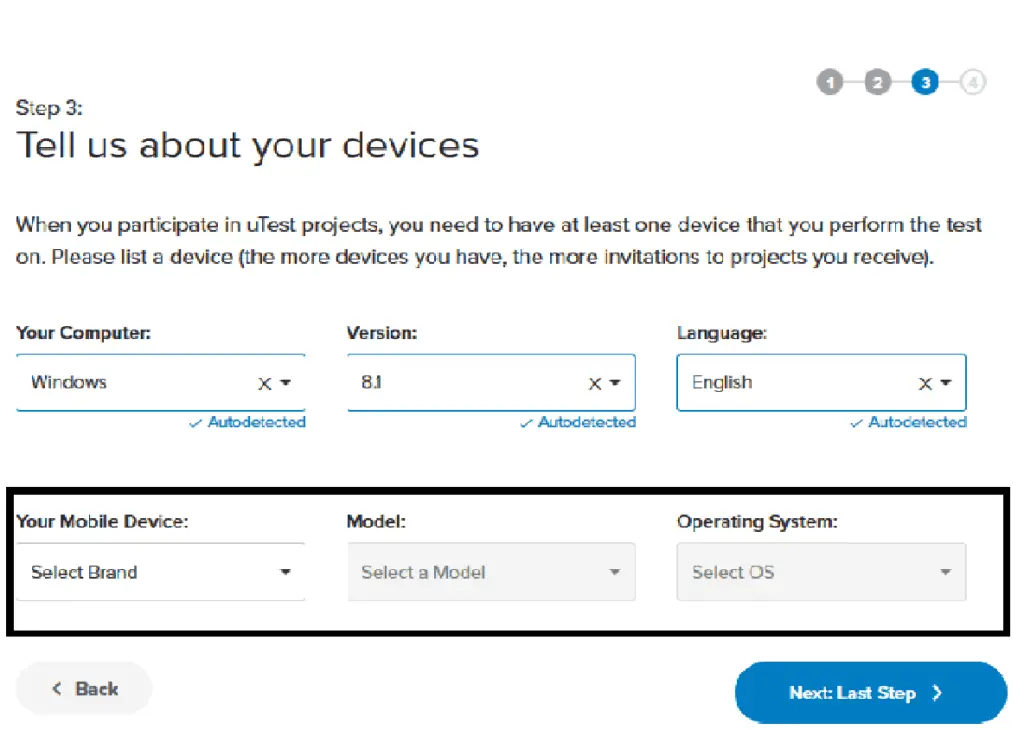 Step 3 will always automatically fill in the information from the device you use to make the account.
You only need one device to become a website tester; you can always add additional devices later.
After you hit "Next: Last Step" you just have to enter a secure password, and your registration is complete.
Once you have finished the four steps, you will receive a welcome email that will take you to the homepage.  To navigate the uTest website, you can use the left sidebar to navigate home, training academy, projects, and community areas.
uTest Home
The "Home" button will allow you to fill in all the necessary parts to complete your profile. We are currently sitting at 29% complete, but each section will only take you a few minutes to complete. The first thing is setting up your payment – uTest uses either Paypal or Payoneer. Don't worry; you can always modify your setting anytime if necessary.
Connect with the community is much like an internal social media page where you can find all the newest information about the latest software testing. Make sure to post and contribute. It is all part of the networking process.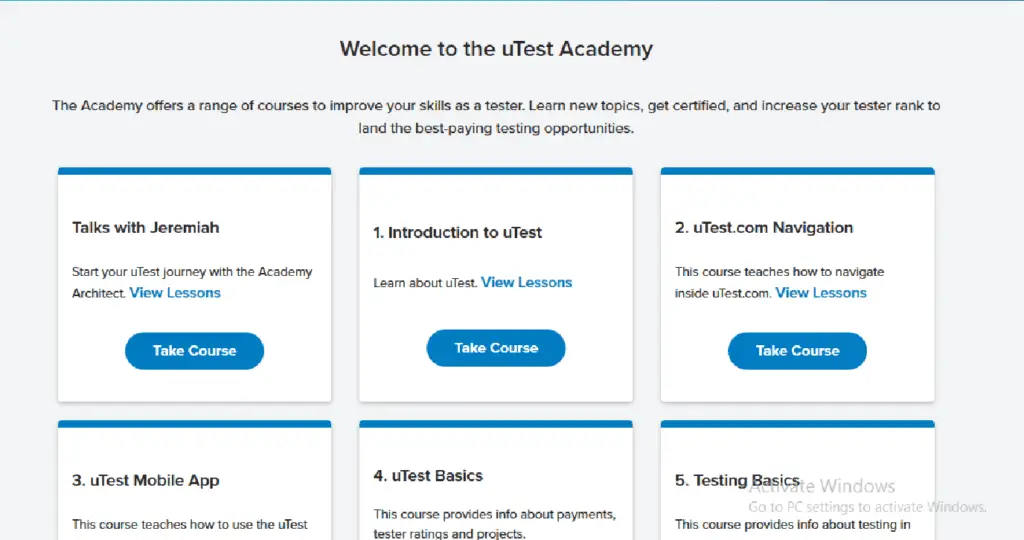 uTest Academy
uTest Academy has 22 short courses recommended, and you can take to understand every part of the website and what you will be doing. Each course has several short videos from 49 seconds to just over a minute. The training videos will help you be successful in uTest.  While it is not required, it is highly recommended that you review the training videos before working on projects.  
Projects
The ACTIVE tab shows the projects you can apply to right now and may be a good fit based on your profile. The project listing is continually changing, and you should check it daily if you want to stay active on uTest. You will need to apply to each project individually, and you will need to be accepted before starting the project.
During the application process, you will need to answer 1 to 5 simple questions related to the project to determine if you are the right tester for the project. These questions are there to help you and the business.
Make sure you answer these questions truthfully because you can lose your payment for that project if there is any misrepresentation. Once you have finished the small survey, you will either be accepted or not based on your response.
By clicking on "Projects Board," you can search for projects that urgently need applicants. It is a great place to find quick websites to test. 
Many of these projects are also worldwide projects, so you can participate regardless of your location.  Project Board is where you will be spending the bulk of your time.
If you are accepted, you will receive an email with instructions on how to move forward. You typically get an email within 24 to 48 hours. If you are not contacted, do not worry and keep applying to other projects. There is no limit to how many websites you can test.
Moving up the level – uTest rating
uTest has five-tier badges for rating the testers – Gold, Silver, Bronze, Proven, and Rated tiers. Gold is the highest possible level.  If you do not earn a tier badge, you have not yet completed enough projects.  Gold tester makes 10% more on the projects, 5% for Silver, and 2.5% for Bronze.
Instead of one overall rating, a tester has different ratings for various types of tests.  For example, a tester can have a Gold rating for functional testing but just a Proven rating in another test area.  The tester is also rated and compared against the active members of the community. Your rating can fluctuate, not just based on your performance but also relative to others in the community.
The rating is primarily driven by your activity level and the quality of your work.  The more projects you complete, the more bugs reported, and consistent participation will improve your activity level.  Whereas your accuracy of the bug report and approval rate will determine the quality of your work,
How much can you earn on uTest?
How much you earn on uTest will depend on several factors, including:
Your activity level.  How active are you on the platform, taking on projects and doing tests?
Your community involvement.  The more you contribute to the community, the more visible you are and more likely to be recommended and invited to projects.
Your skill level.  Are you good at following instructions, catching bugs, and answering questions?
Your location. North America and Europe tend to have more opportunities.
Your uTest rating.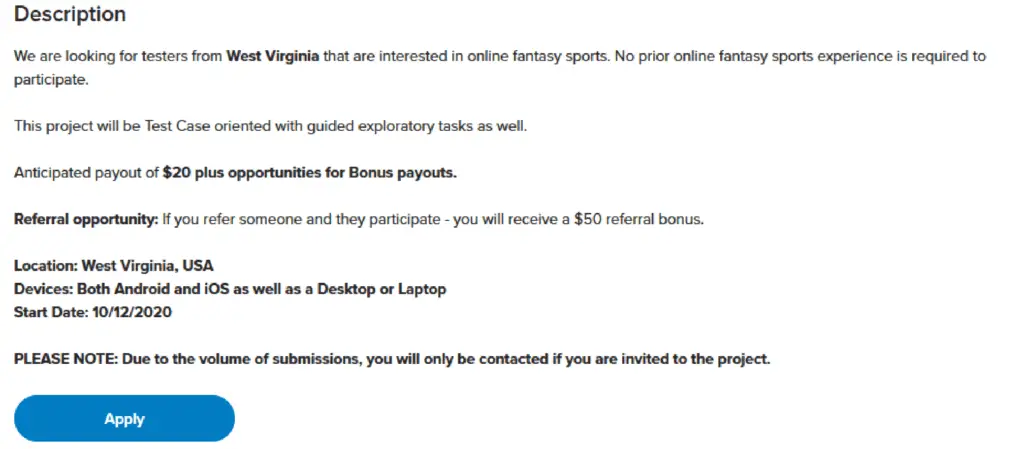 For a casual user who logs on when they feel like it and applies for a few projects, you can expect to earn $200 – $400 a month. This means not being glued to your laptop or phone and not fully utilizing the community feature.
If you are willing to put more time and effort into the community, you may make $1000 – $1500 monthly. 
A "devoted" website tester will be putting in 3 hours or more per day of work with an additional 3 hours a week applying, looking for websites to test and participate in the community discussion. An 18-hour workweek isn't all that bad when you can do it whenever and wherever you want with a decent amount of extra money.
As you complete more projects successfully, build up your track record and move up the rating, more projects will open to you and increase your earning potential on uTest. According to a Gold level tester on Quora, once you take on projects at the Gold rating, you may earn up to $3,000 a month.
uTest makes payments twice a month, regardless of how much you earned; The first payment will be on the 15th of the month, and the final payment will be on the last day of the month. This only changes if payday is on the weekend. Then, you will have to wait until the following Monday.
Is uTest legit?
Is uTest legit? If you do some more research, you will come across countless posts about uTest, from the good the bad to the ugly. However, you will see that most users talk about doing, completing, and being paid to participate in projects.
To ensure you have an overwhelmingly pleasant experience with uTest, here are some DO and DON'T for when you are ready to start.
Do
Be totally honest when making your profile and filling in any screening process for a project
Make sure you keep your devices up to date along with any other electronics you possess.
Keep active in the community to make sure you can apply for as many projects as possible.
Focus during the project and make sure you follow the instruction.
Be patient; once you start, more projects will soon become available.
Don't
Lie that you have access to a device you don't have access to.
Lie in your profile
Apply for projects that you are unable to do.
Devote hours upon hours to the website. Apply for 5-8 projects, log off and check it the next day.
Stress finding bugs that don't exist. You are just testing the website, and it may be all fine.
uTest review – Ready to get started with uTest?
Becoming a website and app tester is an easy side hustle that most people can pick up quickly and earn extra money.
uTest is a reputable website and app testing platform you can start and get free training.  It is essential to be truthful with your answers so that uTest can match you to appropriate projects and you do not waste your time working on the projects you are not qualified for. 
As you work on more projects successfully and stay active in the community, more projects will open up and increase your earning potential.
If you want to earn more money than just pennies from clipping coupons, watching videos, or answering online surveys, you should consider uTest. You can help other companies improve applications while making a better side income.
Related Article: Respondent Review and make money by joining company studies