Last Updated on September 1, 2022 by Andrew Shih
If you're looking for a fun way to make a little extra money each month, check out Swagbucks. They pay users for fun activities like answering surveys, watching videos, and even shopping.
Check out our Swagbucks review to see how it works and see if it's right for you.
Disclaimer: Some of the links below are affiliate links, which means that if you choose to register or make a purchase, we may earn a commission. This commission comes at no additional cost to you. Please review the full affiliate disclaimer.
What is Swagbucks?
Swagbucks is a platform anyone can sign up for and use to make extra money. Users earn money doing tasks they would normally do (shopping online, web searches, and even playing games).
So far, Swagbucks has paid out almost $470,000,000, and they give out more than 7,000 free gift cards daily. They've been around since 2010 and has more than 20 million users today.
How Swagbucks Works
It's easier than ever to sign up for Swagbucks and get started. You can sign up online or on the mobile app. As soon as you're a member, you can start earning Swagbucks.
You then turn your SB (Swagbucks) into one of two things – gift cards or PayPal cash. We'll show you how Swagbucks works and how easy it is to earn Swagbucks with their numerous activities below.
How Many Swagbucks is a Dollar?
Of course, everyone wants to know, what is a Swagbucks? How many do I need to earn $1?
It takes 100 Swagbucks to earn $1.
Don't think that's impossible just yet. Swagbucks activities pay anywhere from 100 – 1,000 Swagbucks depending on how much work they involve. Sure, you'll do some activities that only pay you a small amount, but you'll likely do others that pay 1,000 SBs or more.
So how do you earn Swagbucks? Let's dive into the Swagbucks review.
How to Earn Money Using Swagbucks
1. Shop online
Shop at the more than 1,500 Swagbucks retailers and earn cashback on your purchases. You get paid to shop! Some of the big names include Amazon, BestBuy, Lowes, Staples, Sears, eBay, Macy's, Old Navy, Nike, and Dell. Not only do you earn Swagbucks for each dollar you spend, but you'll also have access to coupons and promo codes to save more money.
Most stores offer 1% cashback on eligible purchases but watch for special deals. Swagbucks offers limited time only bonuses for certain retailers. If you purchase something within the timeframe, you'll earn bonus SBs.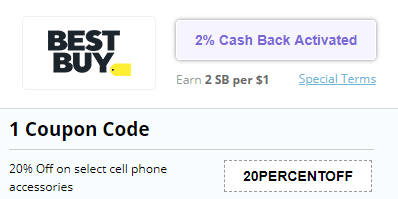 2. Answer surveys
If you love talking about products and services, take surveys on Swagbucks, and earn SBs for your opinion. To answer questions, you must complete your profile and answer some demographic information so Swagbucks can match you with the right surveys.
Surveys take between a few minutes to 30 minutes to take. Most surveys pay 40 to 200 Swagbucks depending on its length.

3. Watch videos
Swagbucks puts together video playlists based on your input. If you watch them, you earn Swagbucks. Put that on your list of things to do each day and you'll watch those points add up quickly.
The videos run a whole gamut of topics including health, travel, and food among others. You won't earn a ton watching videos, but it's a great way to earn money doing almost nothing.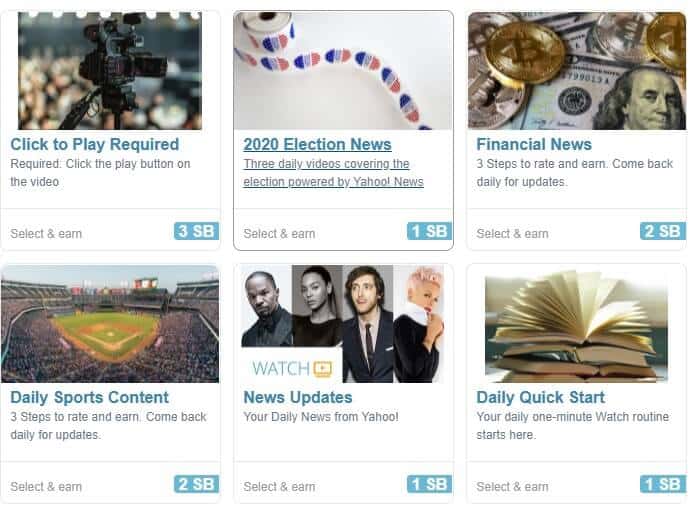 4. Discover offers
Swagbucks is an advertisement platform, putting new products and services in front of you. Many of their offers are free trials or free samples. If you sign up through Swagbucks, you'll earn SBs.

5. Internet searches
Do your searches through Swagbucks rather than Google and earn yourself some SBs. It's powered by Yahoo, so you know you're getting accurate results. Make it easier on yourself and add the Swagbucks search toolbar to your web browser.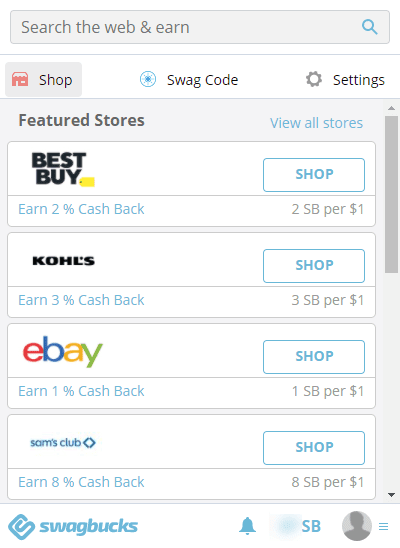 6. Play games
If you love online games, get on board with Swagbucks, and earn money to play your favorites. If you play the free games, you earn 'chances' to earn SB. If you make in-app purchases, though, you automatically earn them.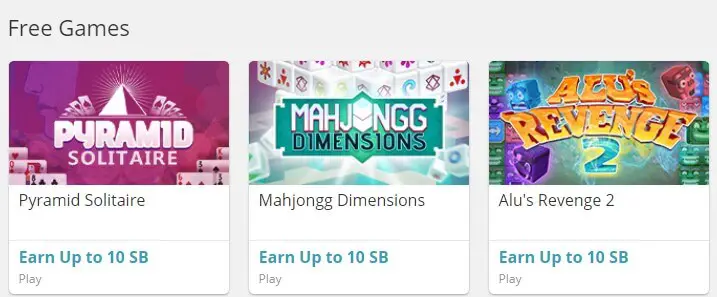 7. Download the mobile app
Everything you can do on Swagbucks online, you can do in the app. This makes it easier to take Swagbucks with you wherever you go. Sitting in the car waiting for your kids? Earn a few SBs. Sitting in the doctor's waiting room? Take a survey or watch a video. You can do it all on the app, making it even easier to earn money.
Is Swagbucks Legit and Safe?
Swagbucks has an 'A' rating on the Better Business Bureau and has a 4.3 rating on Trustpilot with more than 18,000 reviews. Swagbucks only asks for personal information that relates to a task you're completing or sending you payment (email or PayPal account).
Is Swagbucks Worth It?
This wouldn't be a good Swagbucks review if we didn't discuss if Swagbucks was worth it.
If you're looking for a way to make a small amount of money in your free time, yes Swagbucks is worth it.
Who wouldn't want to make money while sitting on their couch, in the doctor's waiting lounge, or sitting in the car waiting for their kids?
Who wouldn't want to earn money doing things they already do, like shopping online, performing internet searches, or even playing games? If you do any of these tasks regularly, switch over to Swagbucks and make a few bucks doing it.
How Does Swagbucks Make Money?
Now you know how Swagbucks works, but how do they make money?
Swagbucks makes money on the purchases you make. They are an affiliate marketer. Every time you buy something through your Swagbucks account, they earn a commission. That's how they pay you a portion of your purchase back.
They also earn money from the advertisers whose videos Swagbucks shows you, or the companies who use Swagbucks to send out their surveys.
Any company that advertises in some form with Swagbucks pays them. Users, like you, never pay a dime to use Swagbucks, unless you voluntarily shop at a retail store, make an in-app purchase, or sign up for one of their offers.
How much Money can you Make Using Swagbucks?
The average Swagbucks user makes $1 – $2 a day. That doesn't sound like much, but if you use it almost every day, you'll make $350 – $700 a year doing a little more than nothing.
If you could make a few dollars here or there playing with your phone, chances are you would do it, right? Whether you turn those earnings into gift cards to your favorite stores or you send the funds to PayPal and put them right in your checking account, it's a great way to have a little extra 'fun' money.
You shouldn't rely on Swagbucks to pay the rent (not even half of it), but rather for 'fun money' that you otherwise wouldn't have.
Can you Make Money Referring Friends to Swagbucks?
Referrals are where you can up your earnings with Swagbucks. While you'll earn a few dollars a day if you do everything you can on Swagbucks (except shopping), you can increase those earnings with referrals.
Swagbucks pays referrers 10% of their friend's earnings for their lifetime on Swagbucks. There's no limit to what you can earn. You'll earn this bonus in the following categories:
Shop
Search
Watch
Play
Answer
Discover
Swagbucks also pays bonuses for certain referrals. You can earn 300 SB for each referral if they earn 300 SB in their first 30 days of joining.
FAQ
How much can you make from Swagbucks in a month?
Most Swagbucks users aim to make $100 a month. While that takes a little bit of effort, it can be done. It depends on how diligent you are with your efforts.
Yes, there is nothing illegal about what Swagbucks offers. They are an affiliate marketer, sharing their commissions with their audience.
What coupons do Swagbucks offer?
Their coupon selection changes often, but most commonly, you'll find coupons for Children's Place, Finish Line, Vera Bradley, Hotels.com, Jockey, Cabela's, and more.
Does every Swagbucks search earn SBs?
No, Swagbucks searches are randomly awarded Swagbucks. The more you search, the greater your chances. Swagbucks pays out 1 to 99 SBs for searches.
How much personal information must you give to Swagbucks?
Swagbucks asks for basic demographic information so they can send you the right surveys and offers. For example, they use your birthdate to send you age-appropriate offers and deals.
What is the fastest way to earn Swagbucks?
While all Swagbucks activities pay something, signing up for free offers pays the most. The highest-paying trials are subscription offers. Just remember to cancel them before your free trial ends.
Is Swagbucks worth my time?
It could be. While you probably don't want to replace any income-producing tasks with Swagbucks, you could add it to your day when you're normally sitting around. Why not make a few dollars when you're doing nothing else?
Should you Join Swagbucks?
If you're looking for a fun and simple way to earn a little extra money, hopefully this Swagbucks review showed you that yes Swagbucks is the way to do it. There's nothing stressful about the process. Who doesn't love to shop, answer surveys, play games, and watch videos?
Choose the activities that you love and make the most out of them. With regular use, you could find yourself with a little extra money in your PayPal or some fun gift cards to use at your favorite stores.
Do you want to save even more money while shopping online or legit ways to get more cashback? If so, check out how you can combine these money-saving apps to maximize your savings.
Related Articles: