Last Updated on January 1, 2022 by Andrew Shih
Do you have areas of expertise and would like to make decent extra income in your spare time? In this Respondent review, we will explain how Respondent works and dive into the detail of Respondent surveys as well as the DO and DON'T to help you optimize your experience on Respondent.
What is Respondent?
Respondent is a website that pays you for your expertise in almost any field. It brings both companies and clients together in order to discuss how they can improve their services for the end-user. This can range from finance, pets to almost any other field imaginable.
How does Respondent work?
After you created an account, you can apply to sit in surveys. The surveys generally range from 10 minutes up to 60 minutes, and they are conducted either in person or online. The vast majority of surveys are online, and the company will be asking you about how they can improve their service, what you think about their service, or something similar.
Setting up a profile
Setting up a profile with Respondent can be a little tricky, but I will show you every step and tips to make sure you can get the best possible outcome.
The first thing you need to do is go to the Respondent website and go to the top right corner to get started.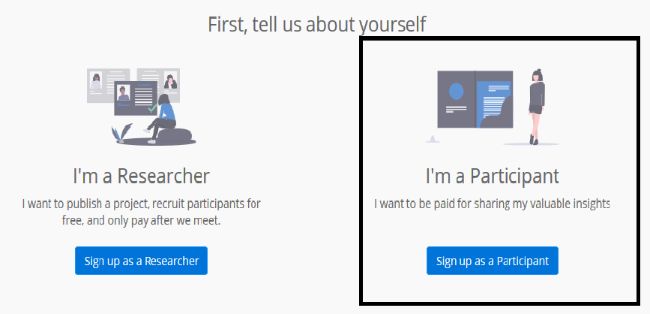 Next, you are going to click "Sign up as a Participant," and it will take you to a sign-up form. I personally think it is best to use your e-mail address rather than social media; If you ever lose access to Facebook, it is far more difficult to regain access compared to your e-mail account. To register your account, you will need an e-mail address and a phone number. Respondent will send you a verification code via text message.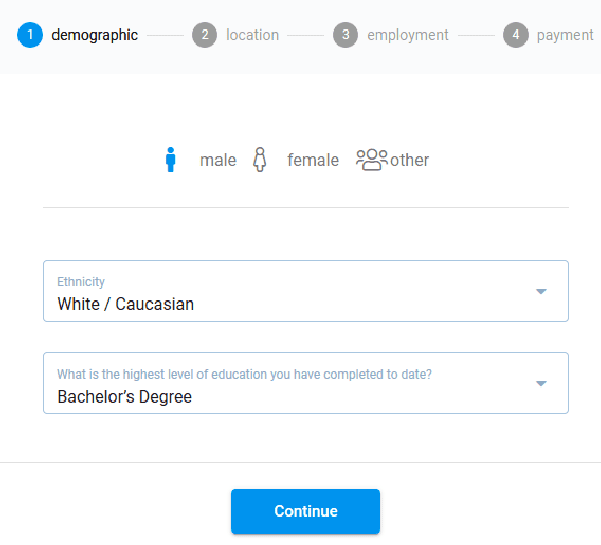 Once you have verified your account, it will move you through the next four steps. It will ask about your gender, race, and level of education. Your answers to these profile questions will match you with the right companies and not waste your or the companies time.
The reason it is asking for your location is that if you opt later on to do some physical surveys. Respondent doesn't want to show you things that are in different cities or countries. It is best to think about where you are most likely to be spending your time. It is not possible to change any of this information for four weeks.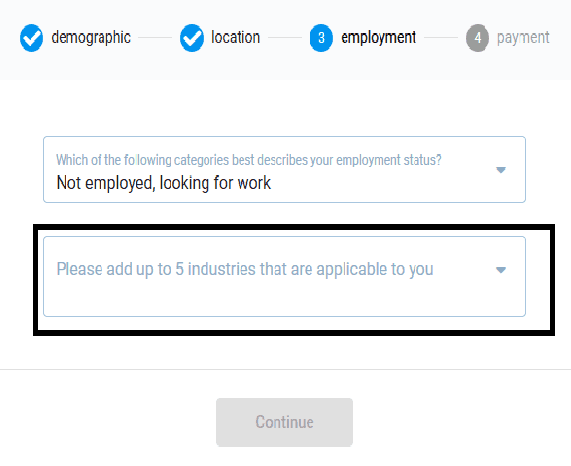 The employment question is by far the most important part of the entire process. When you choose your employment status, it will always ask you to add up to 5 industries that apply to you. Complete the employment questions as thoroughly as possible and include all relevant industries you have worked in the past. This will increase your visibility and help you to get more surveys. The final step is setting up the Paypal payment option.
After you completed those steps, the final part in setting up your profile is verifying your account in order to unlock as many surveys as possible. This step will only take 2 – 3 minutes and allows you to access more features on the website.
Types of surveys
Now that you have set your profile based on your background and experience, Respondent will automatically send you surveys that match your skillset.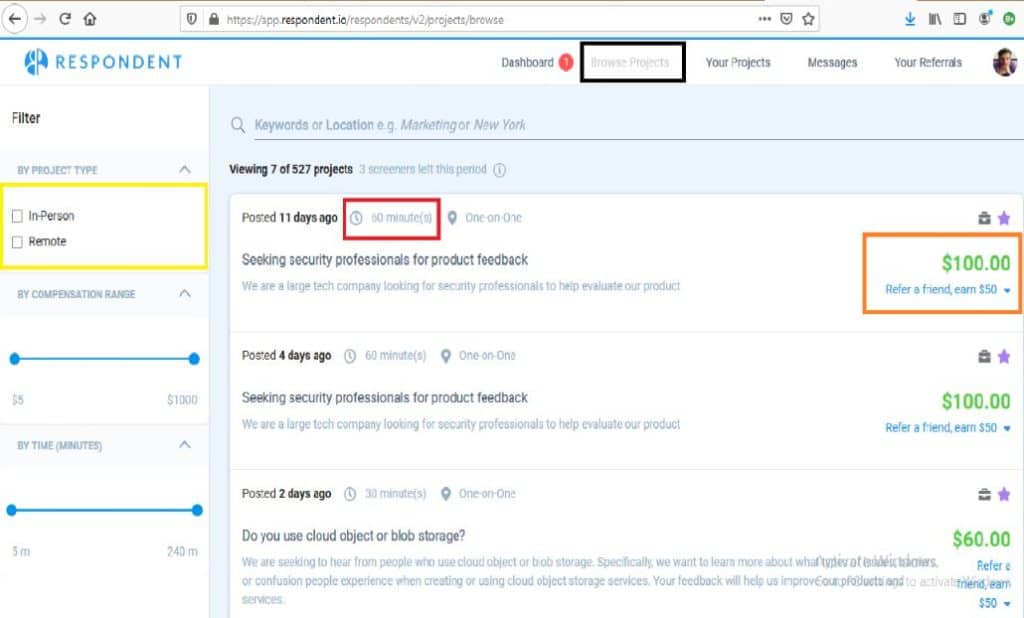 By clicking on "Brose Projects" highlighted with the black box, this will show all the surveys that are appropriate for your account. You can search for keywords and find even more specific surveys if you so desire. You can only apply to join 3 surveys within 24 hours. The clock refreshes every 24 hours. After submission, your request for participating in the survey will be sent to the company.

You can use the filter function to narrow down the surveys. You can choose to complete the survey remotely from your home or "In-Person" survey, which will require you to take the survey at a designated office location at the company. Moreover, you can also filter the survey via compensation range or by how much time to complete the survey.
.

In the filtered survey window, each survey will indicate how long the survey would take to complete (highlighted in red). The one highlighted here would be a 60 minutes interview that would also be one-on-one. When you apply for the survey, it will give you information if it is in person or remote.
And finally, the box in orange shows how much you will make if you are selected for that survey after you apply. For this survey highlighted, you will make $100 after you completed the survey. You can also refer a friend with your code, and you will earn $50 if your friend is chosen and completes the survey.
Taking the Respondent Survey
The surveys are generally quite easy and not stressful. They will ask you questions related to topics you already know based on your profile information. I have talked about how to manage classrooms in an ESL setting, which is a topic I could talk for hours. They will ask you open-ended questions, as well as rating the importance of something on a scale of 1 – 5, and closed-ended questions.
The company representatives are not there to trick you; they are there to try and get as much relevant information as possible. The companies want to improve their business for their customers, and they need help by getting your honest feedback. Therefore, you do not need to feel stress as if you are doing an interview. You are there to help these companies.
One big plus with Respondent is that once you have been accepted for the survey, you will be paid for participating in that survey. As long as you are not making the misrepresentation and try your best to add value by answering all questions truthfully, Respondent will pay you the full amount even if the company decides to end the survey early.
Respondent Remote Survey
Remote survey is the most common type of survey which allows people from all around the world to be able to participate. You will be given a date and time to take the survey and instruction for joining the online meeting. You will be required to put your webcam on, your headset plugged in, and to be in a quiet area.
Since you have to show yourself using a webcam, it is important to dress professionally. The first impression makes a difference. You should take the survey seriously as the company is paying a relatively large amount of money to Respondent.
In-Person Survey
I have not been to an in person-survey, but I have signed friends up for them. They will send you all the information once you have been accepted. You will need to make your way to the designated location and dress for the occasion. The company will not reimburse for the transportation cost because this is included in the total payment for completing the survey.
How much can you earn?
Respondent surveys vary massively in both payment and time.
Payment can be from $15 – $1000 depending on the survey but typically expect to be earning $75 – $150 per survey. It will take up to 10 working days for the payment to go through into your PayPal account.
The surveys can take from 15 minutes – 2 hours to complete, but most of the surveys tend to be 45 minutes – 75 minutes. If you are doing remote surveys make sure that you have a stable internet connection, webcam, and a headset with a microphone.
You are limited to 3 surveys a day but in all honesty. While this can be your full-time job if you have enough surveys, I think you should keep this as a part-time side hustle. Like any online survey side hustles, some months can be fantastic, and others can be dry.
Is Respondent legit?
Is Respondent legit? When you search for Respondent online, you will see a vast range of people talking about the website. Like any business, there are always people that are dissatisfied with the end product, and Respondent is no different. However, the vast majority of the reviews tend to lean towards positive reviews.
To make sure that you have an overwhelmingly pleasant experience, here are some DO and DON'T for when you are ready to get started.
Do
Be totally honest when making your profile and filling in any screening process for a survey.
Understand you can not change the employment part of your profile for four weeks.
Record each survey. Recording can be done be via phone or software. I personally use ApowerREC, because it is free and able to records the whole screen. If you go in person, just take a picture of the company you are going to.
Take advantage of the referral bonus if you have applied for 3 surveys get your friends to apply to some as well.
Be patient; you might not get a survey for your first week or two, but it will come.
Don't
Be late to the survey
Lie in your profile or to the survey provider.
Be nervous; they want to know what you know. This is not an interview.
Spend hours on the website. Apply for 3 surveys, log off, and wait for tomorrow or an e-mail.
Complete the survey in a noisy room.
Conclusion for Respondent Review
While it is not likely that you can make a full-time living out of Respondent Survey alone, Respondent does offer fairly generous payout if you are selected to participate in the survey. It is free to join, so there is nothing to lose. Use the DO and DON'T list as your guideline to optimize your experience with Respondent. Participate in Respondent survey is one of the side hustle that is worthy of your time, and likely put extra hundreds of dollars in your pocket each month with a few hours of effort.
Have you used Respondent? Feel free to share your experience in the comment below.
Related Articles: